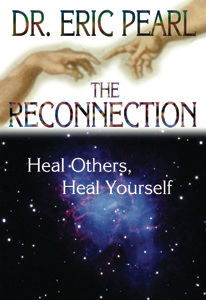 What is Reconnective Healing™?
Reconnective Healing™ was founded by Dr. Eric Pearl. Dr. Pearl was running a successful chiropractic practice in Los Angeles, when a series of bizarre occurrences led him to realize that his gift lay far beyond the realm of spinal adjustment. One patient after another reported healings from cancers, epilepsy, cerebral palsy and other severe health conditions, simply when Dr. Pearl held his hands near them.
Seeking to understand what was happening, Dr. Pearl consulted with leaders in science, medicine, and spirituality – discovering they did not have the answers either. Supported by researchers affiliated with institutions such as Harvard, Yale, and Stanford, Dr. Pearl went on to pioneer studies on the healing frequencies running through him and their affects on people – which he came to term "Reconnective Healing™ " – a comprehensive healing approach, which completely transcends "energy healing" and it's complex rituals and techniques.
You can read about Dr. Pearl's work in his book "The Reconnection, Heal Others Heal Yourself". You can also find more information at
www.thereconnection.com
.
Reconnective Healing™ is a new form of healing that works through
frequencies of energy, light and information
.
These frequencies are of the universe, and they tangibly interact with the person relaxing on a massage table. It is an equation of three components: the frequencies, the person on the table, and the practitioner. All are merged energetically during the process.
Reconnective Healing™ connects us to our true and original essence, and has the ability to heal on all levels: mental, emotional, physical and spiritual. It removes our blocks to wholeness and restores us to our full potential in a place of harmony and balance.
While results cannot be guaranteed, Reconnective Healing™ has been demonstrated to alleviate pain, insomnia, depression, exhaustion and more serious maladies. The efficacy of this type of healing has been demonstrated with thousands of people.
To give you an idea, people successfully seek help with health challenges such as:
Physical: back pain, arthritis, muscle aches, migraines, accident recovery, bone fractures, joint pain, ulcers, cancers, old persistent injuries, nerve pain, skin rashes, infertility
Emotional: grief, lack of self worth, addictions, anger, forgiveness
Mental: stress, depression, anxiety, brain fog, hopelessness, insecurity, panic attacks, insomnia
Spiritual: feelings of disconnection, confusion, discovering life purpose


A Reconnective Healing™
Practitioner does not diagnose or treat specific conditions, but helps you to initiate an experience that allows healing to take place.
 A session brings the body back to balance and relieves "dis-ease". In essence, Reconnective Healing™ treats the individual, not the malady.
Healings can be spontaneous, and can last a lifetime. It is
not
necessary to schedule regular sessions, and to come back week after week, month after month. In fact, only up to 3 sessions are recommended at any one point in time. And the less your practitioner knows about your ailments, the better for you. This may sound surprising. It makes sense once you experience Reconnective Healing™.
Reconnective Healing™ works whether you believe in it or not. During your session you receive exactly what is appropriate for you, at this point in time. The healing you're expecting and the one you receive
may or may not
be a match. Either way, you come away with the gift of healing. You will be delighted when what you believe you need and what you get
are
a match, and you will recognize it instantly. And ... even if it is not a match, you will be happy when you recognize the healing you received instead. It may be beyond what you ever imagined.
During your first Reconnective Healing™ session your body is introduced to the frequencies. Your body never forgets them. Many people can feel their presence long after the session concludes, in fact they stay with you for life. You bring these frequencies into all that you do, and to every person you interact with. Reconnective Healing™ truly is a gift for life.
DISCLAIMER: The information on this site is intended for personal edification and education purposes only. New Aspiration Holistic Healing, the authors and practitioners do not purport to diagnose, treat, cure, or prevent any disease. The same applies to all others involved in developing, promoting and facilitating The ReconnectionT, Reconnective HealingT, and and Reconnective Healing for Pets. The Reconnection, Reconnective Healing, and Reconnective Healing for Pets sessions are offered, and accepted, as exercises of freedom of speech and religion. No claims, promises or guarantees are made relative to specific health challenges. You are solely responsible for your own medical treatment and care.
---